Put your message directly in the hands of consumers with coffee sleeve and coffee cup advertising. Coffee sleeves and coffee cups provide exposure to not only the coffee drinker but also everyone else those people encounter at the coffee shop, on the street, at work, and everywhere else they drink and carry their coffee shop beverage of choice.
Marketing with Coffee Cup Advertising
Coffee sleeves and coffee cups can be customized with attached coupons, samples or other promotional pieces. There are also many interesting art and production options that can be incorporated in these direct marketing vehicles. A few examples are lenticular technology, providing the appearance of movement in the ad, as well as options for creative a 3D image. Heat sensitive color can generate color changes or image changes, and recycled materials can be used for an eco-friendly approach or for a green campaign.
Coffee sleeves and coffee cups are predominantly distributed at independent retail establishments, like coffee shops, cafes, delis, and similar venues. Available in most major markets, coffee cup ads are subject to market and venue availability. A lease on demand media option, coffee cup advertising can be easily customized to your specific campaign needs.
Coffee Sleeve Advertising
By placing your custom advertising on coffee sleeves, your message is placed over the cup while keeping the fingers of consumers from taking too much heat. Coffee sleeves area a great way to advertise through retailers with varying cup sizes.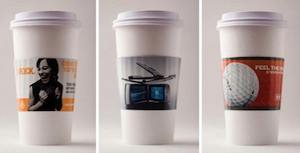 Coffee Cup Advertising
Coffee cup advertising involves printing your message directly on the cup to be used by retailers or at events. With adequate space for even the most lengthy creative. Have an intricate campaign that needs ample space? Coffee cup ads can provide that space and more.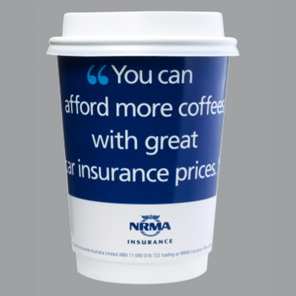 To learn more about coffee cup advertising, fill out our online request for proposal.
To see similar advertising options, visit our direct marketing page.