Golf course marketing is a great way to reach an inherently targeted demographic. With a variety of media options, your campaign has so many ways to stand out along the golf course.
Golf course marketing includes tee divider ads
Golf tee dividers are full color displays strategically placed between hitting stations on golf courses and ranges. These small posters allow for 50+ minutes of face time with a captive audience. Golf course revenue exceeds those of all the professional sports (MLB, NFL, NBA and NHL) put together. The average golfer spends around $3,000 on club memberships and golf-related items a year, making them an ideal consumer.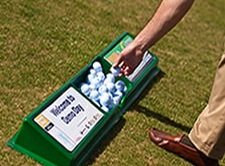 Scorecard ads insure frequent exposure throughout the course
Golf scorecards are ads on the backside of scorecards at golf courses. This direct to consumer advertising puts your message in the hands on your target audience. Golfers are known to be a highly sought after group of consumers, putting your message in front of this highly defined group can be very effective. Reaching active lifestyle consumers can be difficult. The average golfer spends four hours on the course, making golf scorecards a strong direct-response vehicle. Golf scorecards can be used on a local, regional or national level and in most cases there is only one advertiser per course. Minimum quantities could last a couple months to an entire year depending on the market and the course. Golf scorecard advertising is subject to availability by market.
Shoe cleaning station ads target high traffic locations
Golf shoe cleaning stations offer two very important services, a free shoe cleaning service to golf patrons and a marketing channel for advertisers to reach the very sought after golfing demographic. Golf shoe cleaning station units have scrolling back-lit displays and mini billboards. The golf shoe cleaning stations are located in high traffic areas; near golf course clubhouses and pro shops. This form of sports advertising offers an engaging environment for your message, with a longer dwell time due to the service.
In cup advertising brands holes throughout the course
In cup advertising is an advertiser's name or logo around the inside rim of a golf cup. Whenever a golfer makes a putt, they reach down and see your ad, hole after hole. In cup advertising cannot be turned off and driven by, this form of advertising cannot be missed. Golfers not only see the ad when retrieving a putt but also when, they are addressing the putt, putting, replacing the flagstick and so on. With no competing advertisements around, in cup advertising will produce high retention rates.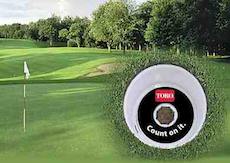 Pro shop advertising options
Pro shop advertising is media placed in the retail shops located at golf courses that golfers frequent before, during and after golfing. Pro shop ad options include static signage, digital signage, table tents, sampling, etc. that are placed inside and at the point of purchase in pro shops. The advantage of pro shop advertising is the golfer demographic, which is an affluent, predominantly male audience that leads an active lifestyle. Pro shop ads are usually found in public golf establishments over private courses. Subject to market availability. Not available in every golf pro shop.
Beverage cart advertising
Beverage cart advertising is a form of mobile billboard advertising, on the golf course. Beverage cart advertising gives the advertiser an opportunity to drive their brand message directly to the consumer. Ad panels are located on the sides and the rear of the beverage cart in various sizes; this ensures your ad will be seen from every angle. Golfers are a well sought after niche of consumers, this form of sports advertising will allow you to reach that very group.
To see similar advertising options, visit our recreation marketing page.