Health club marketing displays can be static or digital display. Most fitness clubs offer both forms of advertising. Gym signs are placed throughout the health club. 
Health club marketing placed in high traffic locations
Digital health club panels are typically located in the main work out area and cardio area of the gym. The displays can be full motion, with sound or static without sound depending on the advertiser's needs. Typically the digital ads are 15, 30 or 60 seconds in length. This form of advertising is great for reach active lifestyle consumers.
Health club static signs are typically placed in high traffic areas to maximize visibility and dwell time. The framed health club panel can vary in size and in some instances can be illuminated depending on the gym.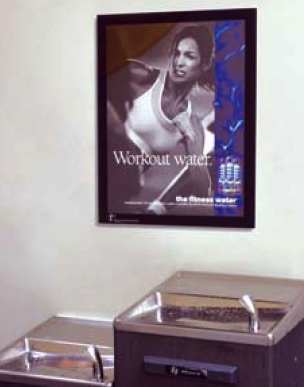 To see similar advertising options, visit our health marketing page.