Nail salon advertising is a great way to reach an attentive audience. Mostly females with higher than average household incomes, patrons of nail salons are often the one making purchasing decisions in the home.
Nail salon advertising with digital screens
A Nail and Beauty Salon Digital campaign is ideal for targeting the female population. This network targets women while they are relaxing and more accepting of your message. Digital Salon network can be segmented to target specific female demographics based on race, income level or geographical location. Nail Salon digital screens are located in high traffic areas with a high dwell time. Since these digital displays are full audio and full motion, they grab the eye of the consumer. Nail Salon digital spots can be 15, 30, or 60 seconds long. The content between the ads will keep patrons tuned in while waiting for their nails to dry. Along with the digital retail-advertising options, advertisers can also hand out branded samples of their product. An advertiser has the capability to raise brand awareness by placing their company name and logo on nail files, nail clippers, nail polish etc. Sampling and branding products is a great way to take your company's name home with your target market.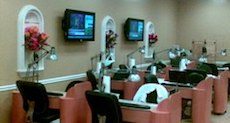 Branded product available for distribution
Branded nail files are an ideal media for targeting women of all ages. Typically, branded nail files are placed and distributed in retail locations like beauty salons and barber shops, but they can be distributed as promotional items at events or on the street by street teams or brand ambassadors. Branded nail files have messages, logos and/or images are placed directly on salon quality nail files, so the ads are seen every time the nail file is used. And, since nail files are used continually and are reusable for up to a year or longer, the message will be seen repeatedly over a long period of time. Making the greatest advantages of branded nail files high ad exposure and frequency, and they're an inexpensive direct to consumer medium.
An additional benefit of branded nail files is that they are completely customizable. They can be one-sided or double-sided. Double-sided nail files can have the same message or image on both sides or separate designs on each side. There are even specialty branded nail files that have a mirror, lint brush, and other options on one side of the nail brush. Placement of branded nail files are subject to approval by the venue.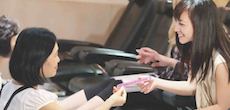 To see similar advertising options, visit our retail marketing page.