Poster advertising is a long standing outdoor advertising option. Some important factors to consider when purchasing any type of poster location are; left or right hand visibility, illumination, Eyes On Impressions, the distance from the roadway, the visibility of the ad from various distances, approach time, additional exposure to pedestrian or alternate traffic, creative abilities, and possible visibility obstructions.
Poster advertising, from 30-sheet posters to eco friendly material
Traditionally, poster units referred to standard 30-sheet posters. In an effort to be more economically sound as well as reduce installation time, the outdoor industry introduced eco posters in 2008. As of 2010, most 30-sheet posters have been converted to accept eco flex material. (This also means that paper is no longer an accepted material for these structures.)
Standard poster advertising units (30-sheet posters & eco posters) are 10'5″ x 22'8″. Posters are typically located on local commuter arteries and surface streets delivering tremendous impact. Purchased individually or in groups of panels called showings, poster billboards offer flexibility for product introductions, building brand awareness and special promotions. Sold in periods of one month or four weeks, posters offer short term and annual campaign options.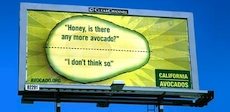 Premiere Panel Ads
A Premiere Panel is a poster location that has been constructed to also allow the unit to be wrapped in vinyl (the same material used for bulletins).  Poster locations that are purchased long term can save on the cost of production by using the durable vinyl in lieu of paper or eco flex if utilizing the same creative throughout the contract term.
Junior Poster Advertising
Most commonly location in urban neighborhoods, junior poster advertising is often found where larger billboards (bulletins & posters) are not permitted. Seen by both pedestrian and vehicular traffic, junior poster are typically mounted on the side of a building just above eye level.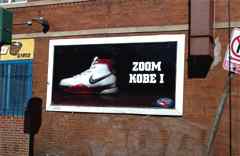 Posters are available in most markets with the exception of Hawaii, Alaska, Maine and Vermont. These states have banned outdoor billboard advertising.
To see similar advertising options, visit our billboard advertising page.