Outdoor Impressions
Outdoor impressions have traditionally been measured using traffic counts and daily effective circulation in order to estimate reach. For years, these figures have been the only reliable counts available to measure the reach of an out-of-home advertising campaign. This outdoor measuring system has not lent itself to a seamless integration and comparison with broadcast and print media, making the job of media planners and buyers difficult while creating and implementing multimedia campaigns.
A new and improved system of audience measurement has been in development for several years. This system is the new measurement standard in out-of-home. When first rolled out, this method was called Eyes On Impressions (EOIs) but has since been re-named TAB Out-of-Home Ratings. (Update 2017: re-named again to Geopath.)
Outdoor impressions are a more accurate measurement of OOH
These outdoor impressions take the focus from the number of consumers that could see an advertisement and converts that figure to a more realistic one of the number of consumers who actually noticed the ad.
These impression figures (often in weekly increments) are derived from a variety of data, specifically: Daily Effective Circulations (DECs), Census Data, Travel Surveys, Data Modeling, Analytics, and statistical conversion factors, or Visibility Adjustment Indices (VAIs). Visibility Adjustment Indices take the physical characteristics into consideration when dealing with an outdoor structure. These physical attributes being: the placement of the unit, what side of the road it's on when viewed, the distance from traffic when viewed, the type of road it's placed on, whether the unit is illuminated, the size, its angle relative to oncoming traffic and who it's viewed by (vehicular traffic, pedestrian traffic, or both).
The switch to outdoor impressions hasn't been a swift one and agencies everywhere are attempting to acclimate to the change. DEC figures are no longer regulated as of December 31, 2011. Outdoor impressions are now the only audited impressions metric used to measure outdoor advertising.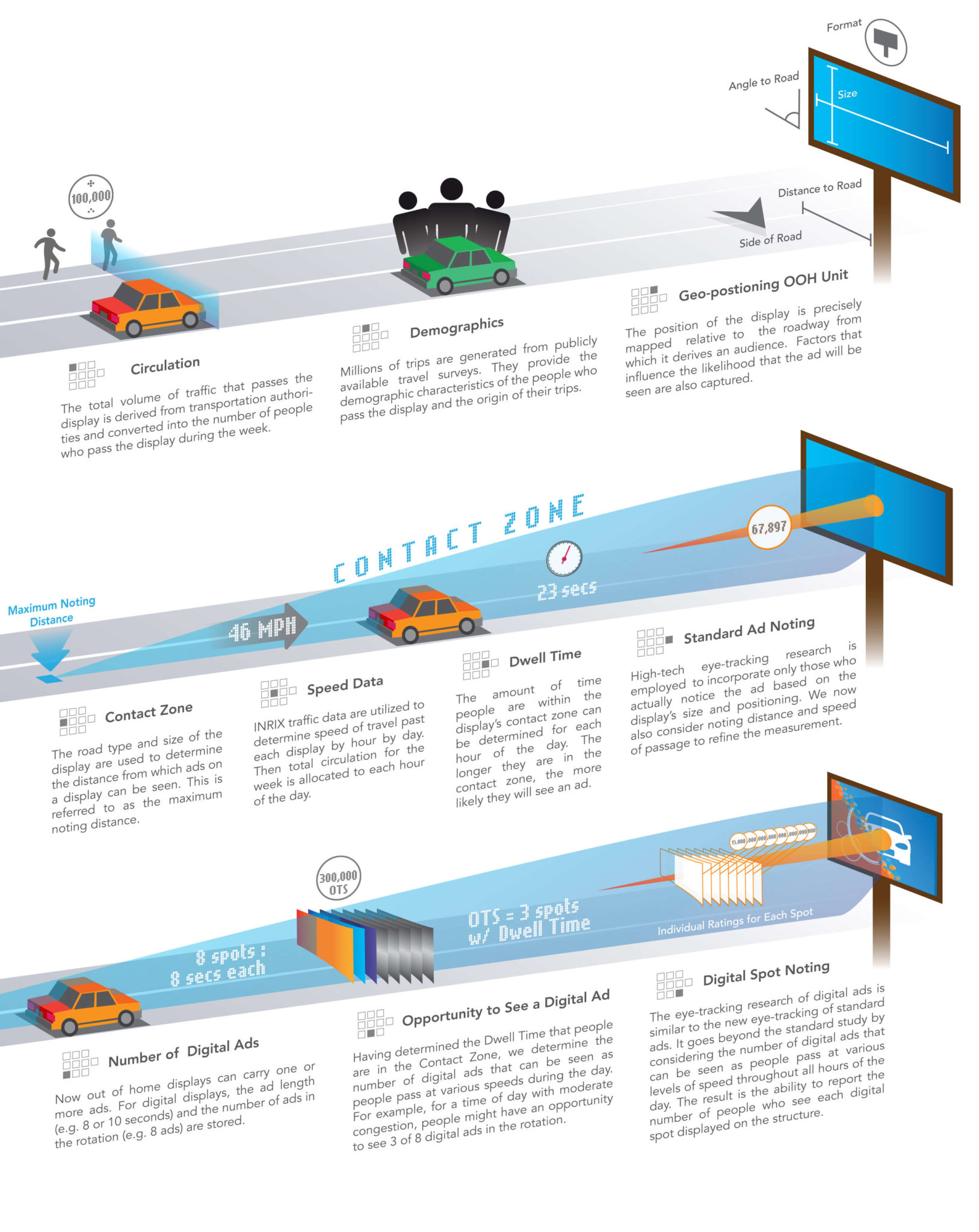 Frequently Asked Questions About Outdoor Impressions
What media types currently have outdoor impression data?
Weekly impression figures are currently available for billboards, transit shelters, street furniture and street level media. Impressions are being calculated for all measurable outdoor media. We will make these figures available to our clients the second they're released.
Are outdoor impression numbers reliable?
Absolutely. The Advertising Research Foundation (ARF) awarded the Innovation of the Year Award to this new Outdoor impressions measurement system. In fact, weekly impressions are significantly more reliable as a measurement tool than Daily Effective Circulation (DEC) figures. Whereas DEC figures were those of potential reach, weekly impressions under the new outdoor impressions system calculates the actual reach. This calculation of reach, as well as frequency, is now per board instead of general market figures.
Where can I find outdoor impression data?
We gather weekly impression data for you during the proposal process. This attention to detail is part of our standard media research. If you need weekly impressions, just contact us. We are more than happy to help.
Will the new outdoor impressions measurement system increase out-of-home costs?
There has been apprehension towards weekly impression for fear that this new outdoor impressions system will increase the cost of outdoor media. The truth? This new measurement system will increase the value of outdoor, but not the cost of the media across the board. More accurate reach and frequency numbers will provide planners and buyers with the tools necessary to decrease their CPM, by reducing fringe waste.
Why are outdoor impression figures often less than DECs?
There is a concern that weekly impression figures are lower than DECs. This is to be expected and doesn't decrease the value of the media whatsoever. In fact, OOH can further increase its value over broadcast and print by utilizing weekly impressions. DECs were the number of views a billboard could have possibly received per day. This was based on the number of vehicular traffic passing by a panel, whether they saw the ad or not. Weekly impressions are the weekly totals of the people who actually notice a unit.
How can I use the comp figures often listed with outdoor impression data?
The Outdoor impressions comp figures are the percentage of viewing traffic that is composed of a target demographic. For example, if the unit you're considering has a comp of 23% listed as adult females with a household income (HHI) of 100k+, because that is what your campaign target calls for, that means that 23% of the weekly impression figures listed come exclusively from members of your target demographic.
How can a campaign benefit from these comp figures?
Previously, when targeting Hispanics 18+ you received units in an area with a high Hispanics population. This didn't effectively reach the target. These were often highway units targeting traffic outside the community. The comp figures under the new outdoor impressions will also allow optimization of dual targets. When targeting general public 18+ as a primary demo and the Hispanic community as a secondary demo, you can choose half locations with a general comp above 60% and half with a Hispanic comp of +42%. Or, you can buy units at a minimum comp for each demo.
Need more information about outdoor impressions?
Have additional questions about media or market planning?